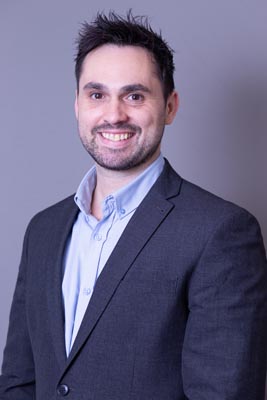 Practice Manager
Chris
Errity
Background
Chris Errity has been a barristers' clerk for twenty-one years, previously at 9 King's Bench Walk, 5 Paper Buildings, Doughty Street, 1 Inner Temple and Church Court Chambers.
His role is integral to the success of chambers as a legal practice and as a business. Chris has demonstrated a combination of commercial acumen, traditional knowledge, and strong interpersonal skills throughout his career.
He is involved in chambers practice management, marketing, and the strategic planning of chambers' business development.
Chris oversees the day-to-day diary management, assisted by the Senior Practice Manager. He is familiar with court procedures and etiquette and has a comprehensive knowledge of the types of law undertaken by chambers.
Chris is trained to deal with public access cases and regularly deals with queries from clients under the Bar Council's public access scheme.
Chris is committed to providing professional and personal service to all Chambers' clients.
Roles And Responsibilities
Providing an effective and efficient practice management service to all members in agreement with the Practice Managers in the team.
Ensuring the ongoing management of the practices and expectations of all designated team members via the careful maintenance and furtherance of relationships with existing clients and the active development of new business opportunities as and when they arise.
Working with the other Practice Managers to ensure the continued effectiveness of the practice management function – including providing total team cooperation and support as required so that this overriding objective is consistently achieved – and jointly deputising for the Practice Manager as and when required.
Having a general understanding of the broader internal and external strategic issues facing both chambers and the legal world generally and contributing positively to chambers' strategic plan.
Ensuring that chambers always remain strictly within the requirements of the BSB handbook.
CLERKING
Liaising with courts regarding the listing of cases, including making written representations and providing up-to-date information regarding the availability of members of chambers.
Managing diary bookings or other instructions for barrister members and allocating briefs according to members' availability and experience.
Transfer of briefs, re-listing cases for counsel's availability and liaison with instructing solicitors.
Allocating instructions that arrive at chambers by email or telephone.
Liaising with individual members of Chambers as to capacity to accept/take on new instructions.
Liaising with solicitors in connection with public funding certificates/representation orders.
Liaising with solicitors and barristers concerning papers required for forthcoming hearings.
Returning and logging out cases that have concluded.
Emailing written work to solicitors, courts and judges on behalf of members of Chambers.
Scanning and emailing documents to barristers.
Requesting extensions of time from solicitors for counsel's paperwork.
Liaising with courts and tribunals to secure time markings and video link hearings.
Responsible for completing the daily diary and notifying counsel for the next working day.
Arranging and agreeing on fees for counsel to attend court.
Dealing with Public Access enquiries from lay clients.
Noting deadlines for review on the system and checking briefs for LAA Certificates/Representation Orders.
Allocating invites to the CCDCS.
ADMINISTRATION
Monitor, log and distribute emails received into Chambers.
Monitor, log and chase LAA funding certificates and Representation Orders.
Answer the telephone, take messages, and deal with queries where appropriate, including direct access inquiries.
Logging in client care letters that are received.
Open all documents arriving by email and log the arrival date on the chambers' computer database.
Monitoring emails received on Chambers' email system.
Noting deadlines for review on the system and checking briefs for LAA Certificates/Representation Orders.
MARKETING/PRACTICE DEVELOPMENT
Ensuring an efficient and professional practice management service is constantly received by clients to maintain existing relationships and develop new connections via the client experience.
Ensuring that a general knowledge of all members' practices is maintained and that a detailed understanding of every member of the team's specific practice is continually developed and kept up to date by all group members.
Being aware of and seeking to assist in managing the work expectations of all team members and identifying those practices which, from time to time, require additional specific focus/development.
Regularly attending client visits with potential new and existing clients of the team, either at the request of the Practice Director, a member, or members of the group, at a specific client's request, or due to justifiable targeted/strategic marketing reasons to exploit and develop opportunities for new work.
Playing an active role in supporting team members and, where required, members of chambers generally, in the regular seminars/talks arranged by chambers, its interest groups and individual team members.
Working with the Marketing Manager and Assistant to ensure maximum marketing advantage is achieved via such events through smooth running and following up leads/feedback.
Generally supporting and assisting chambers' marketing team in marketing chambers and their members.
Positively contributing to the development and implementation of the chambers' strategic plan and being aware of the strategic goals contained in the project and the impact they have on chambers as a business.
Having a workable understanding of chambers' agreed constitution and supporting policies.
Making suggestions and outlining any ideas felt suitable for the ongoing development of chambers as a business via the relevant chambers' committees.
Maintaining a broad understanding of the external/market-based pressures facing chambers and the legal world generally and making suggestions for policy changes/topics for consideration as and when deemed beneficial as likely to be advantageous to the business.
Having a general understanding of the ongoing financial position of chambers as a business entity, both in income and expenditure terms, and assisting in the process of chambers meeting its stated financial targets.
Having a good understanding of the financial expectations of team members and assisting in the process of those members maximising their income and identifying and seeking to address any potential issues that may arise in this respect.
Assisting the Senior Clerk in regularly reviewing team members' hourly rates regarding market forces and changing seniority.
Reducing charging rates, to be agreed upon, for bulk work, Government work, and new clients.
TRAINING
Undertake Chambers' IT system through training by staff and other outside bodies.
Undertake GDPR training as required.
Undertake Health and Safety training.
If you have any legal problems in your life…We are here to Help